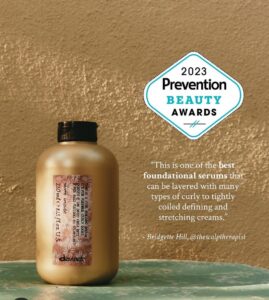 Davines, This Is a Curl Building Serum, has been chosen for a 2023 Prevention Beauty Award. This product was selected by Bridgette Hill, a certified trichologist who began her career as an editorial stylist and a top colorist.
"This is one of the best foundational serums that can be layered with many types of curly to tightly coiled defining and stretching creams." —Hill
We are proud to use Davines professional products for salon services as well as carrying full line in store.